As we are husband and wife duo, our slots are only limited to 2 slots each on Saturday and Sunday. At the moment this is what we can manage and we definitely hope to expand in the future so that we can accommodate everyone.

When you are ready to book, contact us to check availability and to lock-in your date (we recommend that you decide on a location before you take this step as some will have guidelines for any outside vendors).
*In order for us to make sure that our set up looks it's best for you on the day of the event, do ensure that the event venue has good lighting and a clean surface/wall.

Next, you'll choose one of the following packages based on the size. If you are unsure of which package size to get, just let us know how many guests you'll be catering for and we'd be happy to recommend you a suitable size. We would suggest to downsize the package if you have catered food and/or a cake so as to minimise leftovers.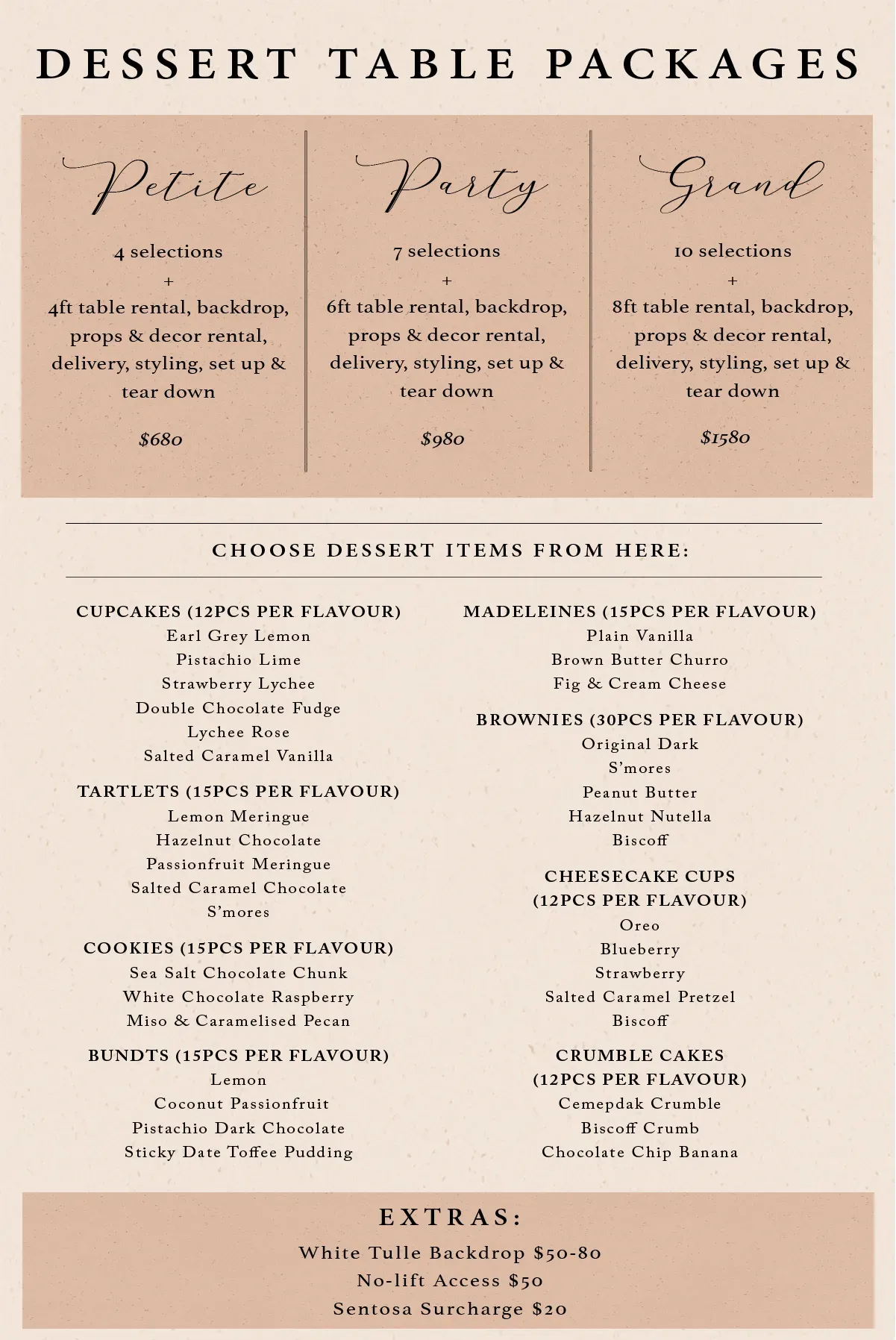 *CAKE NOT INCLUDED IN PACKAGE AS WE DON'T DO CUSTOMISED CAKES.

During this phase you will decide on dessert flavours & design as well as table concept and basic styling. Your TDP stylist will then begin to design a layout and pull tables, displays & props and coordinate any floral or custom work, based on your theme. (Feel free to drop by our studio for a consultation session regarding your setup!)

On the day of your event, TDP will arrive to begin the set-up of your dessert table 1-1.5 hours before the arrival of your guests. Desserts will be delivered within the ideal time frame for them to be set up, displayed and served. At the end of your event, we will breakdown and remove all tables & props.
And that's it! Any remaining dessert is for your guests to leave with (or for you to keep) and enjoy.
INTERESTED?
If you are keen in our dessert table packages, please contact us at hello@thedessertparty.com with the following details:
- Package Size
- Theme in mind (Pictures will be very helpful!)
- Dessert selections (One selection = 12pcs strawberry cheesecake cups for example)
- Address of party
- Start and end timing of party
- Birthday boy/girl's name
TERMS & CONDITIONS
BOOKINGS
All bookings should be confirmed with deposit paid at least 3 weeks prior to the event date, to allow time for planning and sourcing of the materials as well as desserts to be freshly made. Orders are only considered confirmed once invoice is sent and deposit is paid.
We reserve the right to cancel or reject any orders at any time.
USE OF DESSERT TABLE AS PHOTOBOOTH
Do inform us beforehand if you would like to use the dessert table as a photo-taking area so that our team can plan the layout and make the necessary arrangements.
SAMPLING
We do not offer samples of our cakes or desserts at the moment.
LAST MINUTE BOOKINGS
In the event that you urgently require our services and your event is less than 3 weeks away, we are able to take in last-minute bookings should the requested slot still be available. However, please note that a late booking surcharge applies as follows:
– Any booking made less than 21 days prior to the event is subjected to a 10% surcharge of the total charges.
- Any booking made less than fourteen 14 days prior to the event is subjected to a 20% surcharge of the total charges.
- Any booking made less than 7 days prior to the event is subjected to a 40% surcharge of the total charges.
SET UPS IN HOTELS
In the event that the hotel does not allow any set ups, The Dessert Party will not be held responsible and no refunds will be given. Do check with hotel management staff for the green light before proceeding to place an order for our dessert tables.
CHANGING YOUR PARTY THEME
If you have already decided on a theme but wish to change it to another, we will only allow so if the deposit has NOT yet been made. Once the deposit is made, we will start working on the decorations and props, which means you will not be able to change the theme.
COPYING OTHER VENDORS' DESIGNS
Please note that we do not do exact replicas of other vendors' set ups. If you like a set up done by that vendor, please approach them instead.
PUBLIC HOLIDAY SURCHARGE
Do note that a Public Holiday surcharge of 10-20% applies for all bookings that fall on a Public Holiday, Christmas Eve, New Year's Eve, Christmas Day and New Year's Day.
EVENT VENUE SURCHARGE
An additional surcharge of $20 is applicable for setups in offshore areas (Sentosa and Jurong Island).
NO-LIFT ACCESS SURCHARGE
For event venues without any lift-access, a $50 surcharge will be imposed.
DAMAGE AND/OR LOSS OF PROPS, DECORATIONS AND SERVEWARE
Clients who damage or misplace decorations, props, cake stands, plates or other items provided for the dessert table set up will have their security deposit forfeited. Should the replacement value exceed the security deposit, you will be charged the additional costs which are payable within 3 days from the event date.
DEPOSIT FEE
To reserve your date, we require a confirmation email and a 50% deposit, which will be credited towards your final invoice. To confirm your order, fill in the order form under the 'Contact Us' page and we will get back to you within 3-4 working days.
PAYMENT
Cash & bank transfers are accepted. Full payment must be made before the event date online, and on the day for cash payments.
CANCELLATION
For a full refund of your deposit, reservations must be cancelled at least 20 days prior to your event. Once we start working on the decorations and sourcing of props, no refund will be made should you decide to cancel the order.
BACKDROP & DECORATIONS
Our decorations are hand made and customised for each and every set up. We do not provide helium balloons nor printed PVC banner backdrops. We use mainly handmade paper flowers, garlands, buntings, tissue pom poms, paper fans, honeycomb balls, tassels etc to make each and every set up more unique.
MORE FLAVOURS
If you wish to add more flavours or desserts to one of our packages, just let us know when you email us, and we'll let you know how much it will cost depending on how many, and the package chosen.
SMALLEST SIZE
The minimum requirement for a dessert table booking is the Petite package. Unfortunately we do not offer any smaller sizes of dessert table packages.